Sustainable Strategy Programs
Don't miss this opportunity.
Matt Pieper, Executive Director, Open Hand, Atlanta (testimonial)

Sustainable Strategy programs achieve powerful mission impact and bottom-line results. Subscribing to Michael Porter's advice that "the essence of strategy is choosing what not to do" (1996) and built upon Mark Light's Results Now book, the right answers come from five questions:

Instead of the typical approach to strategy making that can be pie-in-the-sky unrealistic or down-in-the-depths pedestrian, a Sustainable Strategy program strikes the right balance by focusing on two primary elements: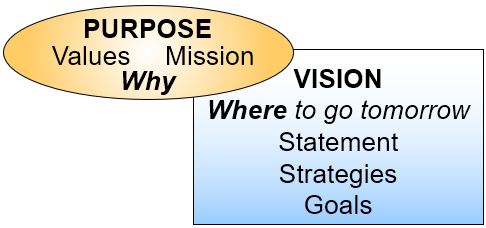 A unique, clear and engaging style that is both beautiful to experience and results oriented.
Paul Plate, Former Executive Director, Positive Impact (testimonial)
The Sustainable Strategy program is a powerful action learning program, which "involves taking action and reflecting upon the results." Unlike the one-off classroom method that suffers from transfer of training problems, action learning builds long-term capacity by having three or four top-level people (executive director, program manager, finance person, etc.) work together over a period of time to build sustainable strategy.
The program has four day-long, hands-on learning sessions spread across an twelve-week period. Between sessions, you receive teaching, coaching, and training to support your work on specific assignments due at the next session (written reports and oral presentations). Other services can be provided as well like governance training, client focus groups, and one-on-one executive coaching. The last session is where you deliver your final oral presentation and written report that can become your new Stratregic Plan.
I would recommend working with Mark Light in ANY capacity.
Yamani Hernandez - Executive Director, Illinois Caucus for Adolescent Health (testimonial)
The common approach to strategic planning is to engage a consultant who makes recommendations on what to do next. The Sustainable Strategy program takes a different path in that the best people to make recommendations are those who work in and deeply understand the agency. In addition to addressing your challenges and opportunities plus building lasting capacity, other takeaways include learning how to think strategically and competitively, polishing presentation skills, and building cohension in your team. Participants have full access to all of the templates, samples, and tools needed to succeed in the program including Mark's comprehensive Sustainable Strategy Workbook (in press 12/17) keyed to the program's agenda.
The Sustainable Strategy program uses the following agenda for deliverables and includes the four on-site training workshops, on-site coaching, and teaching that lead up to your agency's new strategic plan:

1. GREAT START

What are we doing now?

(1 day)

A. Get Ready

B. Purpose

1. Values

2. Mission

C. Current Strategy

1. Lines of Business

2. Success Measures

3. Vision

2. GREAT IDEAS

What could we do next?
(1 day)

A. Vision Statement

1. Ideate

2. Statement

B. Vision Ideas

1. Collect

2. Evaluate


3. GREAT Strategies

What will we do next?
(1 day)

A. Great Ideas Presentations

B. Great Strategies

1. Build

2. Test

3. Decide

C. Strategic Plan

4. GREAT TO GO

What will we do today?
(1 day)

A. Strategic Plan Presentations

B. Operations

C. Promoting Strategy

D. Leading Change
All – not most, not some – of the participants were enthusiastic.
Kathy Palumbo, Director of programs, The Community Foundation for Greater Atlanta (testimonial)
The Sustainable Strategy program comes in two versions - individual agency or cohort. The individual agency approach gets full-focus from First LIght Group, but it is more expensive. The cohort approach saves costs (up to five agencies can particapte) with takeaways that include long-lasting relationships with other like-minded executives where potential collaborations thrive. Another benefit is that cohort agencies present their results to thier peers for feedback and enrichment at every session. And at the final session, each agency presents to a panel of respected outsiders including funders (subject to availability).
Whether a single agency or a cohort, First Light Group provides the same level of support including templates, samples, and workbook, and on-site coaching to facilitate the process. Like a master class, you must bring the desire and concentration to succeed and some quality time to do the work.
Funders will often initiate and/or underwrite a sustainable strategy program. All Chicago's 2017 Sustainable Strategy program addressing homelessness was supported by the Chicago Commuity Trust concluded this spring with presentations to a panel of influencers. Particpating agencies were Family Rescue, La Casa Norte, Near West Side CDC, St Leonard's Ministries, and Teen Living programs. Please visit the program's home page to learn more including evaluations.
The Community Foundation for Greater Atlanta wrapped up its program supported by the Elton John AIDS Foundation in September, 2014. Participants were AID Gwinnett, Center for Black Women's Wellness, Project Open Hand, and The Living Room. Here are the Participant Evaluations for the program.
AIDS Foundation Chicago completed its sustainable strategy program thanks to the Chicago Community Trust in November 2013. Participating agencies were Howard Brown Health Center, Illinois Caucus for Adolescent Health Project VIDA, Mt. Sinai HIV program, South Side Help Center. Information on outcomes for the agencies is in the Summary Report. The Dayton Power and Light Company Foundation completed its program in 2012 for seven Miami Valley agencies.
One of the most valuable training and educational opportunities of my career.
Jim McCarthy, President/CEO, Miami Valley Fair Housing Center (testimonial)
It helped us to apply proven business principles to achieve objectives.
Monique Rucker, HIV Program Manager, Mt. Sinai Hospital (testimonial)